---
Vertical Baling Machine
TVB1509T
The Waste Baler is ideal for volume reduction of soft waste in a relatively small space. The Baler can be used for soft waste, such as cartons, waste paper, and polythene wrap. With features including retaining claws, rope pusher, and bale ejector, the waste baler operates efficiently and hydraulically.
Application
Vertical Waste Baling Press (TVB1509T) for Vertical Baler by manual, waste baler
Machine Alias Name
Our vertical balers,TVB-series with manual tie are ideal for smaller spaces and where less waste is generated. It can be perfect in many situations with easy bale ejection systems.
Features
Compact in small floor area
High speed cycle time with strong press force
With retaining claws
With friendly ropes pusher
With bale ejecter
Safe and easy operation
Specifications
MODEL
Machine
Aperture
Bale Size
Motor
Press Force
Bale Weight
mm
mm
mm
tons
kg
TVB-1509T
L: 1820
W: 1300
H: 2500
L: 1500
W: 570
L: 1820
W: 900
H: 1000
10HP
43
300-400
TVB-1208T
L: 1612
W: 1335
H: 2500
L: 1200
W: 600
L: 1200
W: 800
H: 1000
7.5HP
27
250-350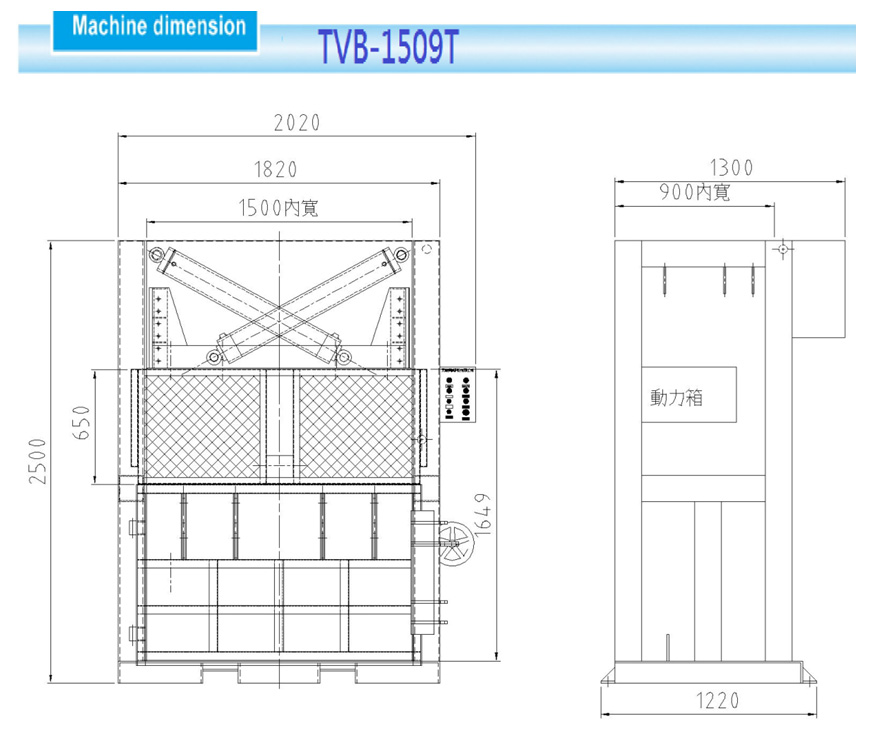 Movies





Product Gallery

Catalogue

Related Products

TVB1509T

---

The Waste Baler is ideal for volume reduction of soft waste in a relatively small space. The Baler can be used for soft waste, such as cartons, waste paper, and polythene wrap. With features including retaining claws, rope pusher, and bale ejector, the waste baler operates efficiently and hydraulically.

---

TVB1208T

---

The Waste Baler is ideal for volume reduction of soft waste in a relatively small space. The Baler can be used for soft waste, such as cartons, waste paper, and polythene wrap. With features including retaining claws, rope pusher, and bale ejector, the waste baler operates efficiently and hydraulically.

---

---

Files Download

---

The Techgene's horiizontal baling presses are suitable for industrial Cardboard, Paper manufacturers and waste disposal companies. The baler can condense varied materies, such as corrugated paper, carton box, trimmed paper, news paper, magazine or plastic films, PET bottles and cans ect. Valume of most packaging material is reduced by up to 95% in a matter of seconds.

---

---